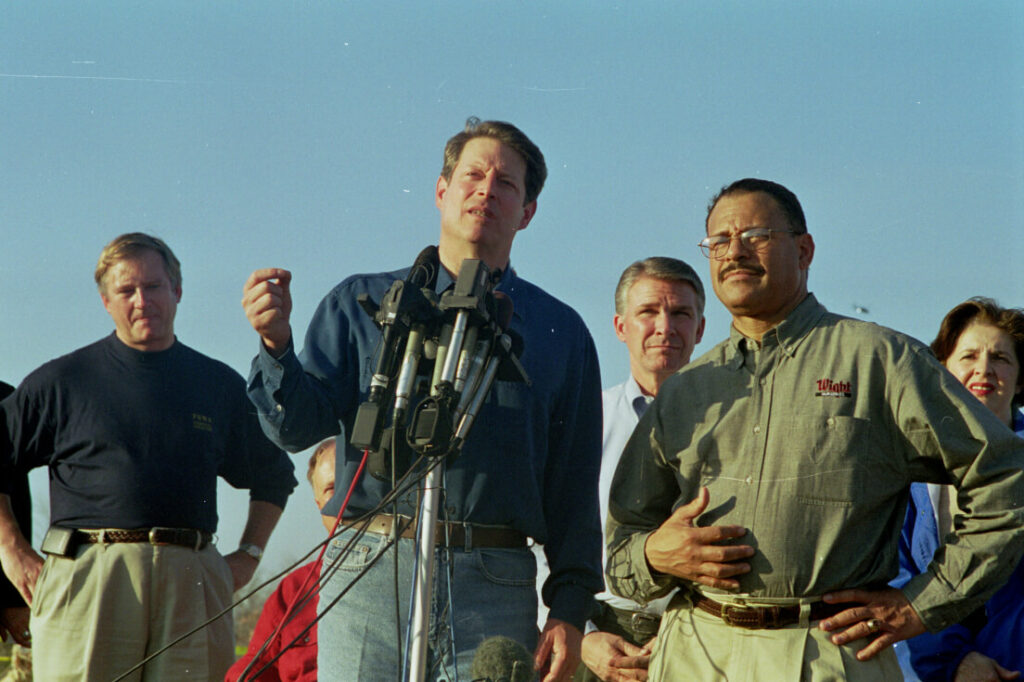 A Proven Champion for Middle and Southwest Georgia
Congressman Sanford Bishop is serving his sixteenth term in the United States House of Representatives, representing the constituents of the Second Congressional District of Georgia. A consensus builder that works with members on both sides of the aisle, Congressman Bishop is uniquely dedicated to his constituents and has demonstrated himself as a leader inside of Congress.
Representing Middle and Southwest Georgia, Congressman Bishop defines his goal in public service as "seeking a higher, better quality of life for all citizens by promoting jobs and a stronger, more diversified economy, a better educated population, safe and secure communities free of crime and drugs, a clean environment, affordable and accessible health care, a safe food supply, energy independence, and a strong national defense — all within the context of a balanced budget."
A Moderating Voice in Congress
Congressman Bishop serves as a senior member of the powerful House Committee on Appropriations. In 2019, at the beginning of the 116th Congress, he was elected by his colleagues to serve as the Chairman of the House Appropriations Subcommittee on Agriculture, Rural Development, Food and Drug Administration, and Related Agencies.
In the 118th Congress, he now serves as the top Democrat and Ranking member on this subcommittee.
Congressman Bishop also serves on the House Appropriations Subcommittee on Military Construction, Veterans Affairs, and Related Agencies Appropriations Subcommittee. As part of his service on this subcommittee, he has championed the largest increase in funding for our nation's veterans.
Additionally, Congressman Bishop serves on the House Appropriations Subcommittee on Financial Services and General Government, which oversees not only our nation's banking and financial regulatory agencies, but also independent agencies including the Federal Communications Commission and Federal Election Commission, and Small Business Administration, as well as the U.S. Supreme Court and Executive Office of the President.
Congressman Bishop has emerged as a leader among the fiscally moderate-to-conservative Democrats in Congress. He champions policies in support of a strong defense, a sound infrastructure, and an efficient and secure social safety net, as well as tax relief that does not burden future generations.
He believes that the most important way the nation can reduce the federal budget deficit and grow the economy is to ensure all Americans are provided an opportunity to work and contribute to our nation.
He strongly believes a strong federal response is required to combat the Covid-19 pandemic and is working to ensure Americans are provided the resources and guidance to weather the storm in a safe and coordinated manner. He has endorsed legislation to support our workers, small businesses, hospitals, healthcare providers, and state and local governments that have faced substantial impacts due to the pandemic.
Over the years  he has also worked to increase small business lending, provide tax relief to Americans at all income levels, eliminate the burdensome estate tax, and close tax loopholes that send American jobs overseas. In order to restore the nation's economic security, Congressman Bishop has supported a Balanced Budget Constitutional Amendment; legislation to require any new spending by Congress to be offset by spending cuts and/or enhancing revenues; caps on discretionary spending; and reforming defense procurement and weapons acquisition.
Bishop has pushed through many initiatives of special concern to the Second District. He has secured well over $10 billion dollars in federal grants and loans for communities throughout the Second District, making the area one of the nation's leaders in qualifying for federal community development funding. He has also spearheaded billions in disaster relief funding for rural communities, farmers, and small towns and medium-sized cities that have been impacted by recent tornadoes, floods, and hurricanes.
He has also spearheaded legislation to name the new U.S. Courthouse in Albany for civil rights attorney C.B. King and legislation to rename the main post office in Albany for Dr. Walter Carl Gordon, Jr. He has supported bills to expand and improve the Andersonville and Jimmy Carter Historic Sites, as well as efforts to sustain and build new structures at the Second District's military installations, including Fort Benning in Columbus and the Marine Corps Logistics Base (MCLB) in Albany. He supported the minting of a commemorative coin honoring the United States Army Infantry, with a portion of the proceeds supporting Columbus' National Infantry Museum and Soldier Center.
For more than three decades, Bishop has served the people of Georgia as an elected official, first in the Georgia House of Representatives from 1977 to 1990, followed by the Georgia Senate from 1991-1992, and currently in the U.S. House of Representatives since his election in 1992. A graduate of Morehouse College and Emory Law School, Congressman Bishop is an Eagle Scout, as well as a recipient of the Distinguished Eagle Scout Award, a 33rd Degree Mason (PHA), and a Shriner. He enlisted into the U.S. Army in 1969 and successfully completed basic training at Fort Benning, Georgia. He then enrolled in Advanced Reserve Officer Training Corps (ROTC) training and later received an Honorable Discharge in 1971.
Bishop is a resident of Albany, Georgia, where he is a Deacon and Trustee of the Mount Zion Baptist Church. He is the son of the late Dr. Sanford D. Bishop, Sr., the first president of Bishop State Community College in Mobile, Alabama, and the late Mrs. Minnie S. Bishop, a librarian. Congressman Sanford Bishop is married to the Honorable Vivian Creighton Bishop, who is serving as the elected Clerk of the Municipal Court of Columbus, Georgia (court administrator). They have a daughter, Aayesha J. Reese and a granddaughter, Londyn.